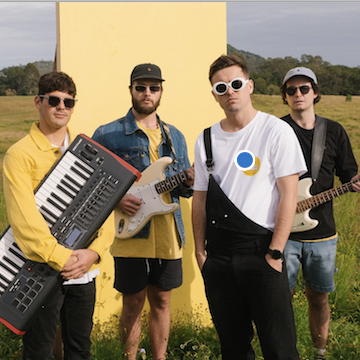 There's nothing better than a nice cup of Hot Coffee to get you moving.
Hot Coffee are a four-piece blend of hip-hop/soul and dance/funk fusion from the Gold Coast. Drawing upon influences from Anderson Paak, Mac Miller, Tom Misch, Jamiroqui and Frank Ocean.
Hot Coffee have left their stain on South East Queensland with eclectic and electric live shows over the last (2) years. The four boys hail from completely polarizing musical backgrounds, ranging from deep hip-hop influences, to electronica and house, all the way classic rock and roll. Hot Coffee do not stray from experimentation, only benefitting from a merging of musical backgrounds and interests. The result is a groovy amalgamation of sounds that are unique and euphonious. Having recently welcomed two new members to the group, Hot Coffee was once a two-piece electronic hip/hop duo in their initial year of creation. The band has now widened their horizons as a part of a renewal of their sound including live keys, guitars, bass and vocals. The additions making huge impact in their live sets.
There is no doubt these four cheeky boys from the Coast have a lot to offer with live gigs and new releases up their sleeve. Keep a close eye on this high energy group, don't miss the next big thing.
MAKE AN ENQUIRY