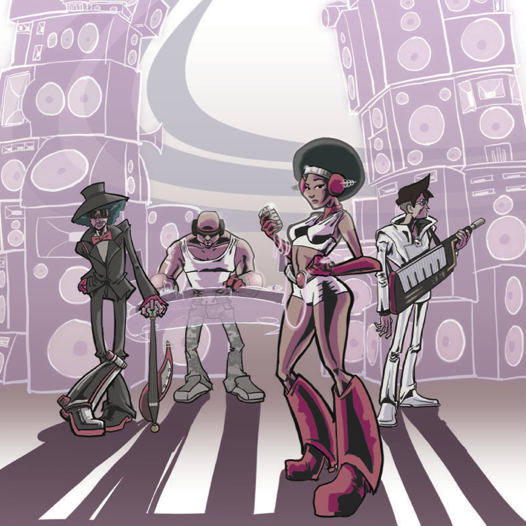 This is a story of the "Rubber Johnson". The "Rubber Johnson" was created as a weapon of mass seduction by 4 talented young technicians who all specialized in the arts of aural climax. Their sole purpose was to make people from all over the world move in rhythmical ways until wet with excitement & joy. In the year 2006 the "Rubber Johnson" was let loose among the funk starved masses to bring ultimate satisfaction to all in its presence.
Live Rubber Johnson performs as anything from a 2 piece DJ set to a 10 piece Live funk act. RJ is guaranteed to bring an instant party vibe and complaints from the neighbors, where ever they perform. 2006 saw RJ's debut performance at Summafieldayze as well as a couple of smaller club performances with Elsewhere and Platinum. This was then followed in 2007 by performances along side Sneaky Sound System as well as the Quicksilver Pro and a product launch for Arnette Sunglasses at the Oxford Art Factory in Sydney.
Throughout 2008, RJ enjoyed regular radio play of three of their tracks on local radio and spent much time back in the lab working on further productions. During this time they managed collaborate with Washington DC funksters "The All Good Funk Alliance" and in late 2009 released their first collaboration track and vinyl release on Super Hi Fi out of the USA, with the track "Man With A Jam Plan". This collaboration saw AGFA on the production and RJ on the vocals, presenting a party anthem vibe with Hip Hop influences, everything that they had set out to capture. This release also came with a remix by another crew of Washington DC heavy weights "Fort Knox Five" and to top it off, the flip side had a further remix by Kraak and Smaak. This release put RJ out into the international funk/breakbeat arena and gained positive feedback from many.
To follow this release, RJ then offered to do a remix of the track and this was later released in 2010 charting in the Beatport Breakbeat Chart at 54 in it's first week. It also gained much praise from industry heavyweights with 5/5 ratings and remarks like these coming from Jalapeno Records Label Manager/Trevor Mac "Rubber Johnson mix is up my strasse, real funky!" and "That's my version, I will play for sure, loving this Electro touch!" from breakbeat producer Jayl Funk.
2010 and 2011 saw Rubber Johnson performing live at Parklife Brisbane and working hard in the studio on further collaborations with AGFA for their latest album with Fort Knox Recordings "Jack Of All Trades" as well as working on their own 'official' debut release with Respect Music Records. The single "U Can't Stop The Rubber Rocket" due for a 2013 release date with remixes by Fingerlickin's very own Slyde, Dutch House Producer Phonic Funk and of course Nu Funk partners in crime All Good Funk Alliance.
Since the original "U Can't Stop The Rubber Rocket" single dropped, RJ have been busy saving the world from all sorts of no fun havin', regulation makin', creativity crushing, soul destroying Muthasuckas! Now although that doesn't leave time for much else, they have also managed to get in some studio time to do some tasty collab and remix work with their friends over in the US, Fort Knox Recordings (R.I.P Jon Horvath) and All Good Funk Alliance, as well as a few remixes for Respect Music Records artists Stalkz and Jacob Rohde and Opolopo and Amalia (Coming Soon).
In addition to this, the word is that RJ have been hard at work getting their own original works release schedule for Respect Music Records in order, which we are very excited about!
Now rather then have you wait in despair for these to drop, we have actually been granted the opportunity to share with you, the world exclusive of the first Rubber Johnson animation and digital comic for their single "U Can't Stop The Rubber Rocket!". Which can only be described as some sort of crazy love child cartoon between Fat Albert and the Junkyard Gang and The Jetsons.
Full Animation Link
Digital Comic Download Link
Also to boot we have managed to get you a new line up of talented remixers such as Musol, Jimi Needles, Axis (Tom Drummond and Michael Justice), Zamali featuring Mario Coppola and Ad'N'Kuts to give the release a 2015 make over! In all giving us a great selection of sounds to get down too. Ranging from Donner Summers and Giorgio Moroder influenced Disco through to Hands in the air Drum and Bass and Party Funk Breaks! (All remix animation clips are to be made available on the singles official retail release date the 27th October)
Cumming Soon To A Dance Floor Near You!
MAKE AN ENQUIRY
Released & Ready by Rubber Johnson
Freebies & Bootlegs by Rubber Johnson
LIVE RECORDINGS & MIXES by Rubber Johnson