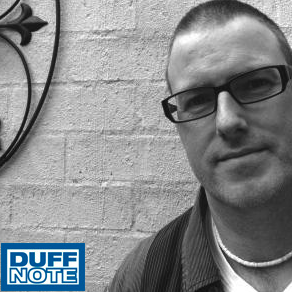 Career…
A career that so far span's more than 25 years in the music industry. DJ, promoter, radio presenter, label owner & producer. Darren has been involved in the music industry in all forms since his early teens continuing his unique style to this current day. Darren dares to go against musical trends and is very successful with his parties drawing bigger and larger crowds with people wanting to hear something different.
Darren's first party nights at Soul Elements gave the people something with real soul and disco flavors. Playing on his own night's Darren recruited close friends and and DJ's who were feeling his vibe. Slowly the music policy at his parties began to edge towards house music, still keeping that magical feel of disco. Darren continued to successfully promote his own Soul Elements night for 5 continuous years and commented that: "Promoting your own parties is not only about one night; it's the work from behind the scenes daily".
"There are many pieces of the puzzle that you have to bring together on a weekly basis to make that one night a success"
"Not until you see a healthy and enthusiastic bumper crowd through the doors week in, week out can you finally relax and have a smile about what you're achieving and giving the people".
Radio…
Darren DJ'd his spot at London radio station Shine FM for 3 consecutive years. His show prime time Saturday night from 8 till 10 all across London kept people tuning in and listening as they prepared themselves for a big night out. His show taking on a unique edge as being the only house music shows on the station over the weekend. Darren's 'Love Of House' regarded by many as the perfect show to get you in the mood for dancing on a Saturday night, backed up by listening figures Darren Giles being the most listened to on the station.
Due to DJ'ing commitments his stint at Shine FM was complete, but his radio work is far from finished. As his traveling to DJ worldwide takes prime position. Darren is found doing radio guest mixes all over the world for stations:
Ministry Of Sound Radio (London)
Nova FM & 2FM (Ireland)
Channel 7 (France)
Galaxy Radio Network (National, UK)
Radio 101 Dance (Russia)
Traxsource (America)
Kiss FM (London & UK)
Capital Radio (London)
Wave FM (Wales)
To this day Darren continues to be one of the most requested house DJ's on the radio scene.
Behind The Decks…
Darren has and continues to play at various venues worldwide. Over 15 years Darren Giles continues to travel worldwide playing music to millions and his philosophy remains steadfast throughout… 'You got to entertain the people who have paid hard money to come and listen to you play'. "The way I see it is that I'm just an extension of the crowd. My heart goes into entertaining the people who have come expecting a fantastic night out, and that's what you've got to give them". "My high is watching people dance to the music you're playing and to send them home looking forward to the next time, with a smile on there faces".
Both his professionalism and the pure entertaining vibe that he brings to a night finds him being re-booked for venues time and time again around the globe.
Venues played include:
Escape Club (Wales)
Ministry Of Sound (London)
Sexy Chocolate (UK)
D Club (Switzerland)
Solyanka Club (Moscow)
Dusted (UK)
The Loft (UK)
Razzamatazz (Barcelona)
Changes Nightclub (South Africa)
Conekt Club (Poland)
Coffees & Toffees (Poland)
Alhambra Lounge (Brisbane)
Geisha Bar (Perth)
Press Club (Brisbane)
Trademark Hotel (Sydney)
Mars Lounge (Sydney)
The Lincoln (Sydney)
Highlife Music Festival (New Zealand)
And the list goes on…
Music Producer/Remixer…
Darren Giles has major success with numerous labels with his own productions, his remixes of other artists and collaborations with some of the hottest names in the UK house music scene. Darren is often found working hard on the production front and at the keys of his purpose built Disco Kid Studios. He remixes for labels such as Soulfuric (US), Hed Kandi (UK), Reelhouse Records (UK), Duffnote (UK) and Silocasa (Switzerland) and having success on his own Disco Kid imprint.
He has also remixed the likes of one of disco's best female artist Patrice Rushen when he joined forces with fellow producer and long time friend Richard Earnshaw. Here they bring a new twist to her 1982 classic 'Tired of Being Alone' 2006. Darren & Richard teamed up once again in 2007 under the moniker of Earnshaw & Giles to release 'Round & Round' which is released on Richard's own Duffnote imprint and is a club hit worldwide. Currently to be found on the Ministry of Sound CD 'Housexy 2008'.
Through his musical career Darren has felt fortunate to work with some of the biggest names in house music, to call them friends. Richard Earnshaw (Duffnote), Todd Edwards (Nu Trend Music) Brian Tappert (Soulfuric), Simon Dunmore (Defected Records) to name but a few.
Selected productions include:
Darren Giles pres: The Themes EP (Disco Kid Records)
Darren Giles ft Simon Green – I Wanna Dance With U (Disco Kid Records)
Soulizm – The Music (Solid Soul Records)
Soulizm – Give You Love (Solid Soul Records)
Suburban Souls – You Got Me Feelin' (Reelhouse)
Darren Giles – Disco Cutie (Reelhouse)
Earnshaw & Giles – Round & Round (Duffnote)
Darren Giles – Disco Cutie (Disco Kid Records)
Darren Giles – D's Theme (Disco Kid Records)
Earnshaw & Giles – Déjà vu (forthcoming on Duffnote Records)
Remixes include:
Maxine Singleton – Don't U Love It (Darren Giles Disco Edits) (Reelhouse)
Off The Cuff – Shake (Solid Purpose Mix) (Soulfuric US)
Off The Cuff – Keep On Turnin' (Mayhem & Giles Chicago Vibe Mix) (Silocasa Records)
Patrice Rushen – Tired Of Being Alone (Undercover Joe & Disco Kid Re-Edit) (White Label)
Lucy Pearl – Don't Mess With My Man (Soulizm Mixes) (Solid Soul Records)
The Layabouts – Feelin' It (Darren Giles Remix)
Darren's musical career continues to go from strength to strength as he continues on his musical journey to entertain around the globe and over the airwaves for years to come.