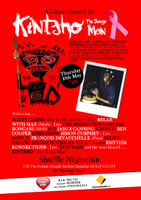 Cancer Benefit For Kintsho
For those of you that don't know, our friend Kintsho has been diagnosed with cancer. He needs to find $1000 pw for a special treatment to extend his life. We are holding a Special concert benefit to help raise money for him and his family. For those of you that know Kintsho and would like to help, spreading the word via email or Facebook or even a poster in your area would be amazing.

We are also looking for donations to raffle off and auction on the night. If you know of someone or even have an inkling of someone who may be interested in supplying us with stuff to auction off on the night (gift vouchers, food or product hampers, beauty sessions etc). that would help a lot.

Finally, its seems that this night will end up being somewhat of an 'industry' reunion of sorts. There will be lots of familiar faces, with no less than 16 acts performing too, so if you and your friends are into helping out, enjoying a night of passionate musicians, Djs Singers and Dancers giving there all, then that will be worth the price of admission alone.

BTW at the bottom of the poster are the bank details for those that would like to donate something towards the cause.

any questions, please contact me ....

Thanks Guys

Don Nadi
m: 0424 541155
e: iamdonnadi@gmail.com

B I O

Kintsho Ka Tshabalala (also known as 'The Bongo Man')

was born in South Africa a long time ago. He's an Actor, Dancer, Choreographer, Musician, Producer, Fashion Designer and Teacher. His career boasts an impressive and exhaustive list of credits. As an actor in the early 60's he appeared in the film classic 'Zulu' with Michael Caine. As a musician in South Africa at a very early age he led a very successful chart-topping Penny-whistle band. As a dancer he performed (more than once) at The Royal Command Performances for Her Majesty Queen Elizabeth (as part of a South African Dance Ensemble). As a percussionist (what he's best known for) he toured the world many times over, playing alongside Africa's first lady of song Miriam Makeba and later the legendary South African trumpeter and band-leader Hugh Masekela. Eventually Kintsho moved to London and joined African Big Band Osibisa. He also worked at legendary Jazz Club Ronnie Scott's where he got to meet and play alongside Jazz giant Dizzy Gillespie. His love of music and dance eventually led him to the streets of Harlem, where he established himself as a much in demand session musician, working and touring with such music legends as George Benson, Donny Hathaway and Ralph McDonald (at New York's historic Radio City Music Hall). In the 70's he was also a member of the very successful Disco group A Taste of Honey. Going from strength to strength he later got involved with the world famous Alvin Ailey American Dance Theatre, working with superstar choreographer Debbie Allen (Fame).

After spending some time working and teaching in New Zealand, Kintsho finally settled in Australia in the late 80's. He worked extensively, splitting his time between studio sessions and live work with bands like Cat, Relax with Max and Scott Carne's Human Soup. He eventually settled on the Gold Coast in the late 90's, where he became resident percussionist at Queensland's infamous Berlin Bar. In the 4 years he spent there, Kintsho (along with musical partner Don Nadi) managed to achieve almost legendary status, working alongside some of the

biggest names in dance music, including: Bob Sinclar, Derrick Carter, Dimitri from Paris, Masters at Work (Little Louie Vega & Kenny Dope Gonzalez), Lee Burridge, Dj Pierre. Mateo & Matos, Miguel Miggs, Sandy River and many more. Kintsho eventually spread the love all the way to Brisbane where he held residence at Fortitude Valley's Sunbar for quite a few years. Since then Kintsho has been involved with his dance troupe The Serpentine Dancers as well as on occasion Byron Bay percussion ensemble Rhythm Konnections.