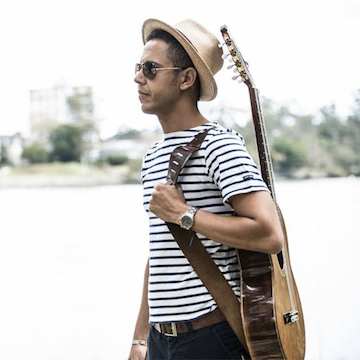 Eddie Gazani is a natural musical talent with enormous creative potential and a passion for performing. Originally from Rio de Janeiro - the heartland of sunshine, music and soul - he now resides in Australia, bringing the Latin grooves of his home to audiences around the world.
In London, he secured a record deal at the tender age of 19 with Revenge records, an Australian record company. Which prompt him to move down under. In Australia Eddie has twice been a finalist for the Q music world music award, and once for the Australian song writing competition.
He has appeared on local and national radio stations such as ABC and SBS in Australia, and performed live on the 'Today Show', on channel 9 for the Australian launch of the movie 'Rio 2'. He has shared a stage with renowned Australian musicians: James Blundell, Doug de Vries, Charmaine Jones, Mike Bevan and Stephen Newcomb, to name but a few.
An accomplished singer, he studied jazz voice under Dr. Irene Bartlet, one of Australia's most prestigious contemporary voice teachers, graduating with a Master in Vocal Pedagogy in 2015.
Not simply a fine vocalist, Eddie is an equally gifted guitarist with a deep affinity for the Brazilian 7-string classical guitar and its unique sound and possibilities. 5 months of master classes with 7 string guitar virtuoso Tony 7-Cordas in 2001 led to Eddie performing alongside some of Rio's great Samba and Choro Veterans, including: Kiko Horta (accordionist/pianist of Martinho da Vila), Pernambuco (percussionist of Hermeto Pascoal, Luiz Gonzaga & Elis Regina), Carlos Cesar (drummer/percussionist of Maria Bethânia), Lincoln Cheib (drummer of Milton Nascimento), Kiko Continentino.